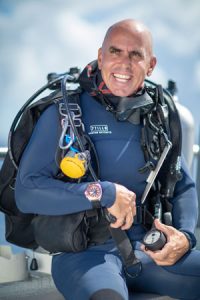 Welcome to the heartbeat of iDiveCayman, where the spirit of the Cayman Islands' underwater realm is encapsulated in one man's passion and expertise. Meet Jason Washington, the renowned underwater photographer and guardian of the deep who has dedicated his life to showcasing the splendor of Cayman Islands scuba diving.
The Visionary Behind the Lens
Jason Washington is not just the founder of iDiveCayman; he is an ambassador to the aquatic wonders that lie beneath the waves of the Cayman Islands. With a camera in hand and fins on his feet, he has traversed the length and breadth of these waters, capturing moments that few have the privilege to witness.
His journey into the depths started over two decades ago when a fascination with the marine biosphere led him to swap dry land for the thrill of the ocean. Today, his name is a byword for excellence in underwater photography and Cayman Islands scuba adventures.
The Photographer with a Purpose
For Jason, photography is more than an art—it's a storytelling medium through which he shares the delicate beauty and sheer biodiversity of the Cayman underwater world. Each photo he takes serves a dual purpose: to awe and inspire, and to foster a deep respect for marine ecosystems that urgently need our protection.
His work has not only adorned the walls of galleries and the pages of prestigious publications but has also raised awareness about the conservation of these precious waters. As a custodian of the deep, Jason's commitment to the environment is as profound as his imagery.
Dive into Jason's World
Jason's extensive portfolio is a testament to his expertise and the reason iDiveCayman is the quintessential guide for anyone looking to explore Cayman Islands scuba sites. From vibrant coral reefs to the hauntingly beautiful wrecks, Jason's images are a siren call to divers and snorkelers worldwide.
His dedication ensures that every piece of content on iDiveCayman.com goes beyond the surface. With his guidance, divers of all levels can find the best spots, understand the local marine life, and learn the safest and most enjoyable ways to explore the underwater beauty of the Cayman Islands.
Join Jason Under the Waves
Whether it's your first time strapping on a scuba tank or your hundredth descent, Jason Washington and iDiveCayman invite you to experience the wonders of the Cayman Islands beneath the surface. With his expert knowledge and captivating imagery, you're not just planning a dive; you're stepping into a world few have truly seen.