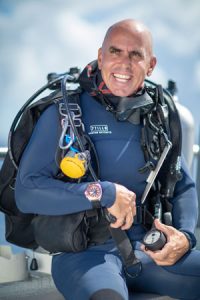 Meet Jason. Jason is the founder, content creator, diver, and overall El Jefe at iDive. For the past two decades, Jason has been a leader in the Cayman Islands water sports community. A 2017 International Scuba Diving Hall of Fame honouree, Washington's focus both locally and abroad has been on protecting the delicate marine life found in the waters of the Cayman Islands.
Among his many accomplishments, Washington is proudest of his role in spearheading and creating CULL, the Cayman United Lionfish League, an organisation in charge of the local lionfish tournaments held four times per year. Over the years, CULL has removed tens of thousands of lionfish from local waters, all while educating the public on the importance of such ventures both locally and abroad. He is also credited with creating the demand for lionfish in the Cayman restaurant scene, and for putting Grand Cayman on the map as the culinary lionfish capital of the world. The owner of Ambassador Divers, a PADI 5 Star facility, Washington has been featured in multiple overseas media outlets promoting lionfish as a sustainable fish alongside some of the world's greatest chefs.
Jason is currently an Ambassador for PADI, the professional association of diving instructors, a brand Ambassador for Cressi, as well as the USA underwater imaging Alpha for Sea&Sea America. If your looking for Jason, he's the guy behind the camera and he's usually in the water!